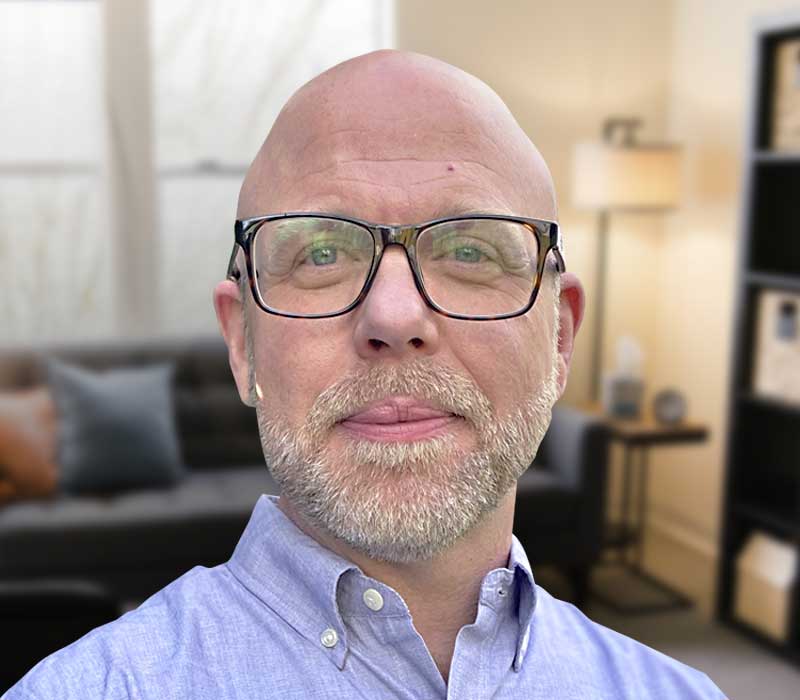 Insurances Accepted:
Aetna, BlueCross (Premera), BlueShield (Regence), First Choice Health, Kaiser HMO, Kaiser PPO, Lifewise, Premera, Regence
Fees:
Private Pay: Individual $150
Private Pay: Couples/Families $175
Office Location:
Private Offfice - Mount Vernon
300 South 1st Street
Mount Vernon, WA 98273



Clients of Jeremy find him to be welcoming, and positive.
His therapy is designed to strengthen and empower individuals in day-to-day life.
You are on a unique journey. Your struggle matters. Sometimes we find ourselves struggling in a particular area of life, with a relationship, or with patterns of feeling, thinking, and behaving that are no longer serving our deeper intentions. When we are no longer aligned with our deeper intentions we can start to feel distress, our relationships can suffer. We may struggle to get our needs met in a healthy way or lack healthy boundaries. Often outdated modes of coping learned throughout life can become counterproductive. 
Whether you are an individual or a couple coming to therapy, I offer an accepting and non-judgmental atmosphere where you can explore those parts of yourself or your relationship that you may be struggling to deal with on your own. It takes courage to come to therapy and seek support. I honor your courage in taking this first step.  My overall approach to therapy is humanistic and person centered. While I offer both my personal and professional experience, you are the expert on your unique experience. My job is to seek to understand your particular concerns and guide the healing process in a way that fits your needs.
I see therapy as a process of increasing awareness, particularly of those parts of ourselves and our relationships that may be causing distress. While increasing insight and awareness, I help clients increase their capacity to be with and make sense of their experience. This often involves identifying unhelpful coping strategies and replacing these strategies with more effective skills. I help clients understand what's happening in their bodies and offer strategies for grounding, stress reduction, and emotional regulation. I also support clients to work with the thoughts associated with feelings. When we can increase positive coping, better regulate our emotions, and understand what our emotions are trying to tell us, we have increased success in navigating the everyday challenges of life.   
For couples, I utilize an Emotionally Focused Therapy (EFT) framework. I help couples bring awareness to their emotional experience to facilitate more effective communication and connection. I help couples identify unhelpful patterns leading to distress and facilitate the development of more effective strategies for getting needs met based on safety and trust. I also offer skills based on the Gottman couples method. 
 As a Certified Clinical Trauma Professional. I am sensitive and attuned to the effects of trauma and how this impacts our life and our relationships. I offer education and skills for those effected by trauma and believe we can learn to live lives more aligned with our deeper intentions and values regardless of what we have been through.  My approach is also strength based. Often we can forget about the strengths that got us this far in life, so accessing and utilizing these strengths can aid in therapy.
If you think we may be a good fit, feel free to schedule an appointment. I look forward to supporting you on your healing journey.
Licence:
Licensed Mental Health Counselor, State of Washington, LH61017418
Education:
BA, University of Washington, Psychology
MA, Seattle University, Psychology
Trainings:
Emotionally Focused Therapy for Couples (EFT) Certification in Process
Gottman Level 1
Mindfulness Based Stress Reduction (MBSR)
Mindfulness Self-Compassion (MSC)
Dialectical Behavioral Therapy
Motivational Interviewing
Certified Somatic Experiencing Practitioner